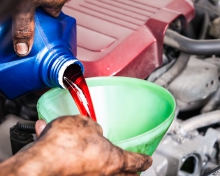 In our previous blog post, we gave you many great clues that point to a failing transmission. If you are like many people in the area, aren't your strong point, and that's okay! Today we wanted to give you some tips on how you can keep your transmission from need a repair. Keep it in good standing condition for as long as you can if you are sure to follow the steps below.
Make sure that you are giving your car the routine maintenance it needs! This could be getting your oil changed every three thousand miles, tires rotated every five thousand miles, and topping off all of your engine's liquids when necessary.
On bitter cold mornings, don't just get in your car and drive. Get up early enough to leave time for your car to warm up for a few minutes before you drive off.
Do you check the fluids under the hood frequently? It is always a good idea to check your automatic transmission fluid regularly, especially if you want your transmission to last.
Don't be part of the crowd that shifts into opposing gears while your car is still moving. Be sure that you quit that bad habit and bring your car to a full stop before shifting gears.
Are you someone who rides the brake while you are pressing on the throttle? This could cause your transmission to overheat.
We hope that the above five tips are useful to you! Visit us online today if you need more transmission information from our specialists in Kearny Mesa.