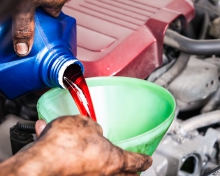 The transmission is by far the most important piece of the puzzle that needs to be in good standing condition to make sure your car is running efficiently and without problem. If you aren't very keen with cars, know that you can turn to your transmission specialists from Kearny Mesa. Here at Kearny Mesa Automotive, you can get all of the transmission tips and advice that you need to make sure your car is running in outstanding condition.
Here are the first of many great tips that you can make sure to follow to ensure your transmission is cared for correctly.
Make sure to never overfill your transmission fluid! Overfilling your transmission fluid is not okay. To be sure that it isn't too full,be sure to check it. Learn how to check it by finding this information in your owner's manual of your car. If you can't figure it out, that's what our transmission specialists in Kearny Mesa are for!
Make sure you check your transmission fluid from time to time. Making sure that your transmission fluid is not overfilled is one thing, but making sure that it has enough is another. You need to be sure that the fluid isn't burnt smelling and dirty.
Don't worry we aren't finished yet! Stay tuned for our next blog where we will be giving you more great advice to follow to make sure your transmission is in the best shape it can be! Contact Kearny Mesa Automotive and Transmission to keep your transmission reliable for years to come.